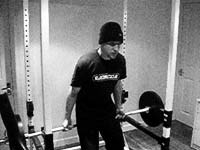 Tonight we explored a couple of the less common squat variations - the Zercher and the Hack (using a barbell, not the machine). Sweat and sore elbows ensued.
I still love the Zercher squat, largely due to the completely draining nature of this lift. With the grip rarely being an issue, thighs and abs always benefit from a thorough workout. Always good.
The Hack squat becomes more of a grip concern with heavier weights, although it's a certified quad-beater up until that point. Another great lift.
Following the squatting came a little calf work, and we finished off with a few hanging knee twists to further test our already fried grips - as well as providing some much needed work for the obliques.
DE SQ/DL
Zercher squat 2×10@20kg, 4×6@60kg, 2×6@75kg
Hack squat 4×6@60kg, 2×6@80kg, 6,2 @100kg
Standing calf raise 4×6@80kg, 2×6@100kg
Hanging knee twist 4×10@bw
Twisting crunch 10@bw
Total time : just over an hour