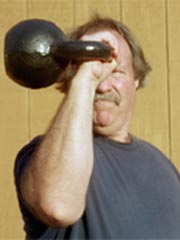 Just noticed this on John Brookfield's Grip Tips - the kettlebell hold. Much, much harder than he makes it look.
The picture clearly shows the final position, but there are two ways of getting the bell there in the first place :
use the other hand to place it there
clean the bell slowly (itself quite a challenging task), and stop it before it hits the back of your forearm
Either way, start out light (John recommends a 20lb bell), crush that handle and curse when it hits you in the back of the arm. Did I mention that it isn't easy?