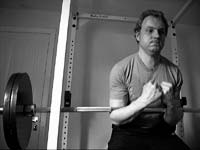 It's been quite a while since I tested my max on the Zercher squats (the last time was back in November) and Wednesday's session was enough to inspire today's test.
After watching a few thousand competitors brave this years' Great Caledonian Run (not to mention the Scottish weather) I headed back for some serious squatting. Of the Zercher variety, that is.
Pull-through (band) 20@supermini, 2×20@blue
Zercher squat 5@40kg, 5@60kg, 5@70kg, 5@80kg, 3@90kg, 2@100kg, 0@110kg
A little disappointing; although I wasn't sure what to expect after such a long absence. Still, it's up 20kg on last time.