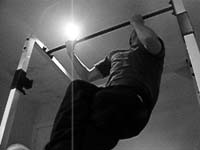 The new year sees the inclusion of additional lat work in my routines. A large part of this will be based around the humble chin-up (in all its wonderful variations); with the remainder made up with the current selection of rows and pulls.
Following some explosive incline benching - using only a slight incline, around 15 degrees - I sampled a version of the chin-up seldom seen (although Sylvester Stallone seems to like them): the Side-to-side chin-up. Execution is similar to a standard chin-up, with the only difference being that the chin is alternately brought to each wrist; rather than over the centre of the bar. Certainly a good way to help rectify any lateral imbalances.
Some weighted chin-ups followed - hopefully a few weeks of these will encourage respectable figures for the unweighted variety. They were certainly enough to see the subsequent reverse-grip bent rows finishing a little earlier than anticipated.
DE

BENCH
Inline bench press (15 deg - explosive)
2×10@20kg, 4×6@30kg, 4×3@40kg
Inline bench press (15 deg - close grip)
4×6@40kg
Side-to-side chin-up (med grip)
8,4
Chin-up (nar grip - weighted)
4,3 @10kg
Bent-over row (reverse/underhand grip)
10@40kg, 10,5,4,3 @60kg
Total time
: 36 mins