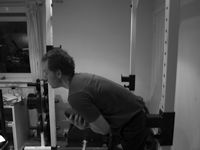 The Coan/Phillipi torture continues, this week repping at 86% of my current deadlift max (which is only 75% of the target for this cycle). Tiring to say the least.
The upside of this is that almost anything feels simple in comparison - at least for a while (until breathing returns to normal and blood recirculates around the body). These 'simple' exercises began with the ever-popular Dimel deadlift and its stiff-legged cousin.
With my training partner beginning to experience a little back pain we elected to forgo the scheduled good mornings and after a quick Waiter's Bow session, it was time to call it a night.
Deadlift 2×5@60kg, 5@100kg, 6×3@125kg
Dimel deadlift 3×8@60kg
Stiff-leg deadlift 3×8@80kg
Waiter's Bow 2×20@10kg