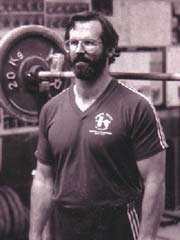 Former US Olympic Weightlifting coach Jim Schmitz talks about the origins of the Romanian Deadlift (RDL) - at least by that name.



Dragomir Cioroslan (a Romanian weightlifting coach at the time) described the exercise as follows :
Start in the completed deadlift position.
Bend the knees slightly.
Lower the bar by pushing the hips back.
Lower the bar below the knees but not to the platform. Tension must remain on the muscles . Stand on blocks if you want to get lower.
The position should be, "SHINS

VERTICAL, HIPS BACK,

and

BACK STRAIGHT

".
The movement should not be fast but steady and under control all the way.
The back must remain straight. The movement is from the hips. The arms remain straight throughout.
Breathing: Take a deep breath at the start of the movement and keep the chest up throughout. Hold your breath as you lower and exhale as you complete the movement.
Start light to develop the technique and "feel" of the movement.
Pictured demonstrating the exercise is Nicu Vlad, once coached by Cioroslan.