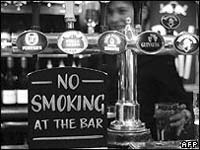 No more smoking in England - at least in enclosed public places - from summer 2007. That's what MPs voted for yesterday (winning by a large majority), and it seems like an 'it's about time' move. A good one, and much needed.
Naturally, the media here has uncovered several smokers who are resistant to the ban. One smoker speaking to the BBC complained :
"What? No way, they can't do that," said one woman in a smoky west London pub shortly after MPs voted for a blanket ban.

Her two friends, both with cigarettes in hand and fag ends in an ashtray, were also aghast.

"It's people's choice to smoke. What about people who just want to relax with a smoke and a drink?" said 20-year-old Freya Eden.

A smoker for five years, she said the ban would not encourage people to stop smoking.

For starters, a 20-year-old who has been smoking for 5 years (the legal minimum age here is 16, by the way) has not witnessed the change over the past few decades or so. In the 1970s it would seem normal to see people smoking on television, and in the workplace. Both are now illegal (although some US Congressmen continue to smoke in their offices) and rarely considered. In another decade it would seem decidely odd to want to smoke in a pub.
Another couple spoken to about the ban (again by the BBC) was a man 'having a swift pint with his pregnant partner'. It would seem their views on a smoking ban - for health reasons - are somewhat misguided.