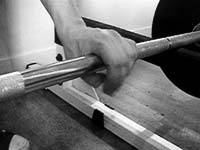 Aside from the recent snatch-grip deadlifts, I've been ignoring the conventional deadlift for quite some time (the last time I tested my max was back in December). I was hoping that the 'no deadlift' approach may have had a positive benefit here - a 2 x bodyweight lift isn't all that far away.
After warming up with a little ab work (and there is a fine line between warming up and pre-exhaustion) I began climbing the pyramid. It was only after I managed a double at 140kg that I remembered reading the benefits of a hook grip, which I elected to give a run on a 150 attempt. Alas, the bar moved a little, then the grip gave way. A second and third attempt produced the same result. Hmmm.
The hook grip involves wrapping the fingers around the thumb (the regular grip puts the thumb over the fingers. It helps to have fairly large hands for this. With a little practice this should see an extra kilo or two slapped on the bar.
I decided to call it a day there and have a think about future deadlift training. After a few months of almost deadlift-free workouts I may try giving it a lot more time in the sun; probably twice per week. The first of these days will follow a similar pattern to that employed by Andy Boulton (certainly not a deadlift lightweight), and the second will be a westside-style session of speed pulls. Now I just need to make sure this allows enough recovery time.
On the subject of recovery, time to get a bit of shut-eye.
Hanging knee raise 30@bw
Seated knee raise/crunch 20@bw
Deadlift 10@60kg, 5@80kg, 3@100kg, 3@120kg, 3@130kg, 2@140kg, 0@150kg