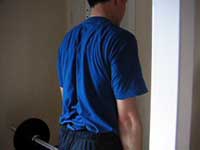 After several weeks of box squatting it was time to bring the bar around to the front for a Zercher-style attack. Despite generating red elbows - mostly as a result of widening the grip beyond the smooth sections of the bar - these were a lot of fun. I'll certainly be including them more often.
Next came the hanging knee raises, which made it clear that the recent flu had taken a bit more of a toll than I realised. Finished the sets OK, but I was quite glad that there were no more scheduled.
Closed the session with some standing calf raises, and I lowered the weight slightly as a trade-off for doing them extremely slowly, with a static hold on the first rep of each set.
A brief session, but quite enough following this morning's fun with a stability ball. Time to bring that (or at least a burst-proof version) back to the weight room.
DE SQ/DL

Dynamic stretching

Zercher squat 2×5@20kg,

9×3@50kg

Hanging knee raise 4×10@bw

Standing calf raise 4×10@50kg

Isometric stretching



Total time : 33 mins